via
IFTTT
Hello Friends, Today i had uploaded this video for those who has many internet users but they are not able to charge them for internet usage. in this video i have explained about a freeware WiFi Billing software which is easy to use and very helpful to generate income from home,commercial internet. you can setup this internet billing software at your home,office,shop or business like hotels and restaurants. you can increase your customers by giving them free or paid internet with other facilities. you can get more likes on your facebook page from this software. you can get additional business growth from this software. hotel industry can apply this software to give paid internet to their clients. shopkeeper can offer free internet to sale their goods and give some more time to stay clients on their shop. You can download this software from internet here is the link .
https://mypublicwifi.com/publicwifi/en/index.html
DOWNLOAD LINK : https://mypublicwifi.com/downloads/MyHotspot.exe
MyHotspot- Wireless-LAN for Hotels and Cafés!
Give your customers the flexibility and extra mobility with Wireless Internet Access
MyHotspot is a professional Wireless LAN software solution for providing internet access to your customers. Customers will be redirected to your login page to authenticate with user account or a prepaid-code before getting the Internet access. The PayPal payment option allows your customers to create and pay for network access directly. The software controls download, upload, data transfer, time usage, visited pages. MyHotSpot Billing software runs on your Windows PC, controls unlimited user or prepaid-code accounts, and displays data to customers on your self-branded pages.
MyHotspot billing software is the definitive tool for managing your public WIFI-HotSpot in internet cafes, shools, hotels, bistros or gaming cafe / game center.
Multiple components and functions are required:
Standard PC computer, Notebook oder Tablet running Windows OS (XP/Vista/Server/7/8/10).
1 LAN (Ethernet) or WLAN Netwok card.
Wi-Fi access point, WiFi-router, or a working Virtual WiFi (e.g Mobile Hotspot for Windows 10).
Working internet connection (Ehternet,WiFi,DSL,3G/4G/HSDPA/LTE..).
Hardware installation: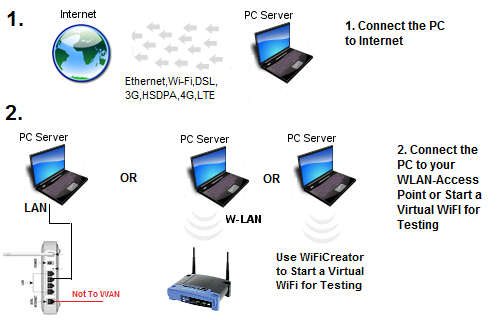 Connect your server PC to the internet.
Connect your server PC to WLAN or to LAN port 

(not to WAN port)

 of your wireless access point or wireless router.
(Example: NETGEAR-WLAN-Router)
Configuration of the Wireless Access Point:

Disable by default the wireless security for your router or access point. You can Optionally encrypt the access to your Wireless Router or Access Point.
(Example: NETGEAR-WLAN-Router)
If you use a wireless router make sure to disable DHCP-Server. You'll need to http in to your wireless router and manually disable the DHCP-Server.
(Example: NETGEAR-WLAN-Router)
Software installation:
Start the setup file on your windows PC to Install Myhotspot software.
The network configuration must be enabled During the installation process. The network wizard will be launched.
You must restart your computer after MyHotspot installing.
If you use Windows Vista/7/8/10 make sure to run MyHotspot with administrator rights. Right click on the program, and click on "Run as administrator".(Show Example)
Windows Firewall restricts and blocks network access and the using of MyHotspot. You will have to add "MyHotspot.exe" and "HotspotService.exe" to the exceptions list of your Windows firewall. (Show Example)
Please check if Myhotspot driver has been correctly installed and restart your PC after network setup or installation. (Show Example)
I hope you enjoyed this video and learned something new from this video.
Thanks for reading my lines and watch the video.
Please comment if you need any kind of assistance.
Nitin Khatri