router help
Use Any 4G Dongle As Range Extender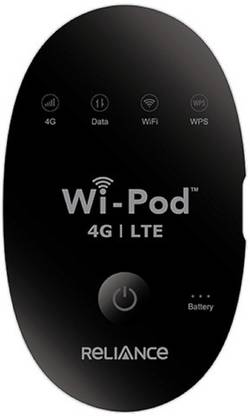 Reliance Wi-pod WiFi Data Card Prepaid : Down load speed upto 14.7 Mbps , Upload Speed upto 5.7 Mbps, Works as WiFi Hotspot to connect upto 5 users simultaneously web GUI for faster and easy connection. Supports micro SD card upto 32 GB.
Reliance Wipod 4G is a SIM Based Router, you can carry this little router while you travel because it comes with many features.
1. SIM Supported
2. Battery Supported
3. SD Card Support for Internal Use
4. Portable for carry
5. 4G Internet in Your Hand
Cons:-
Only 5 Users can use over WiFi
No Repeater Mode
You can also use this portable router for CCTV DVR NVR Online. but you need one another router which has repeater function. TENDA/TP-Link Routers are best for their price range which have repeater mode.
After buy Tenda or TP-Link Router (Universal Repeater Mode) Connect with your computer and access via IP Address in web browser.
Login and go to Wireless Setting, Choose Universal Repeater Mode and Scan Reliance Wipod SSID.
Input Same WiFi Password which you have input in Reliance Wipod.
Remember You must change the Tenda/TP-Link Routers IP Address Must be in same series of Reliance Wipod and DHCP should be disable in Tenda/TP-Link Router. This Method will work on every Portable 4G SIM Based Dongle.
If you need online support, We provide Online Support Services with minimum Charges.
WiFi 4G SIM Based Dongle
https://amzn.to/3kLqlAl
https://amzn.to/3kLqlAl
Repeater Mode Router
https://amzn.to/3iMSViX

https://amzn.to/3aqt5hW
Get Instant Support 24X7
EMAIL Now:
[email protected]
Subscribe Us on
CCTV Networking Technical Support