cctv error code
LTS Security Password Reset
LTS (Platinum) Reset Password
This KB applies to the Platinum DVR/NVR/IPC series.


Requirements
1. Windows 10 Laptop / PC.
2. Local Network environment.  The recorder or camera is on the same network as your computer.
3. You have administrative rights on your personal computer.
4. You are authorized to access the recorder


 One Picture Flowing Diagram:
Resetting the Password
Step 1. Open the IP Portal first.   Select the device that needs to have its password reset.
Step 2. Select "Forgot Password." on the bottom right corner.
Step 3. A new menu will now present itself. This is the password reset menu.
Click Export.   Remember: Export/Import Key must finish within a day.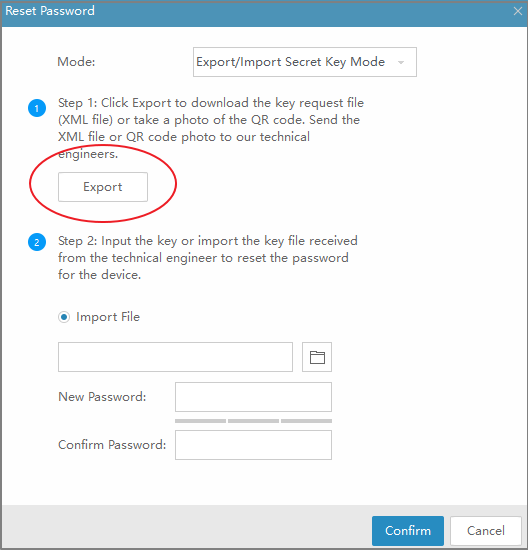 Step 4. Select Export and then designate the location the file will be saved to.
Download XML File Generator Tool Ver 4.0
Download Link: https://payhip.com/b/qb9N


XML Key Generator Tool Ver 4.0 User Manual
XML Key Generator Tool is a utility which helps you to get Encrypted XML file to unlock your IP Camera, DVR and NVR Network Devices.
First you need to download SADP tool (Download Link: SADP Tool) after downloading Right click on SADP Tool Setup file chose "Run as Administrator" and install it, after installation complete right click on shortcut icon of SADP tool and run choosing "Run as Administrator". (Note: - Your Network Device must be in same network to reset the password by SADP Tool)
After run the SADP tool, select your Network Device which need to reset. 
After that click on Forgot Password Link. Export XML file and save on desktop.
Now keep SADP Tool Forgot Password windows open of SADP tool and use XML File Generator Tool v4.0
(Important Note: If you accidently close SADP Tool Forgot Password windows XML Key file will not work. You may need to generate new Exported file and use Network XML file generator v4.0 software again to get new XML Key file.)
Start XML Key Generator Tool Ver 4.0 Program.
First Screen (If you use Program within Time zone +5:30 IST you will get quick response from Key Server otherwise it can be not response or delay response.)
Fill All fields:-
1. Write your email id (This Email ID will receive XML Key file.)
2. Full Serial Number of Network Device (Copy from SADP Tool)
3. Attach Exported XML file from SADP Tool (.XML file)
Click on Generate Button and wait you will receive 2 Emails.
1. Do not download of 1st Email Attached XML file, this is just a confirmation email of Program successfully sent your XML Exported file to xml key server.
2. You will receive 2nd email from xmlkeyserver@gmail.com, Please download attached XML Key file to import in SADP tool for reset Network Device Password.
Feel Free to contact us Email: xmlkeyserver@gmail.com
Important Note: - If someone use program After Time Zone and get delay or no response from xmlkeyserver@gmail.com, use program within +5:30 IST time zone and send new xml exported file.
Download Link: 
https://payhip.com/b/qb9N
Step 6. xmlkeyserver@gmail.com will reply email with the unlock file.
You will need to download the attached file onto your personal computer.
 REMEMBER:  Export/Import unlock file must process in a day.


Step 7. Select "Import File" under Step 2. Select the browse icon next to find the file you received from LTS Tech Support.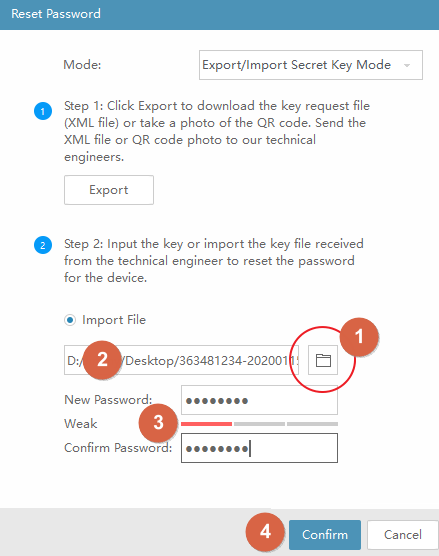 Note: "admin" keyword in the password is forbidden.
Step 8. Create a new password for your device. Once complete, select "Confirm" to change it. You have successfully reset the password.
Subscribe Us on YouTube 
CCTV Networking Technical Support